protect YOUR ENGINE AGAINST WATER AND PARTICLE CONTAMINATION
Direction-Plus™ PreLine Classic is a pre-filter system for diesel fuel systems designed specifically to cope with extreme weather conditions and poor fuel quality, ensuring a high degree of water separation and particle pre-separation.
The PreLine Classic kit includes all the contents needed to install the pre-filter into your vehicle. This filter contains a clear bowl that allows to visually inspect the separated water and drain it when required.
With a water separation efficiency of 100% (based on 150μm droplet size) and a long service life, meeting the specifications set by leading manufactures of diesel fuel injection systems, the PreLine Classic system provides protection for all modern diesel high-pressure injection systems, reliably protecting the fuel system from corrosion, abrasion and the frequency of repairs reduced.
For the first line of defence against water and particle contamination, investing in a Direction-Plus™ PreLine Classic system will protect your investment 24 hours a day, 365 days a year.
Make
Model
Engine
From
To
Part No.
Dual Part No.
Notes
Replacement Element
Ford
Ranger
P4AT
2011
2021
PS621DPK
PSPV661DPK
PLE15040DP / PVE200DP
Ford
Ranger
P5AT
2011
2021
PS621DPK
PSPV661DPK
PLE15040DP / PVE200DP
Ford
Ranger
WEAT
2007
2011
PS609DPK
PLE15040DP
Ford
Ranger
WLAT
2007
2011
PS609DPK
PLE15040DP
Ford
Everest
P5AT
2015
2018
PS621DPK
PSPV661DPK
PLE15040DP / PVE200DP
Great Wall
V200
GW4D20
2011
2014
PS627DPK
PLE15040DP
Holden
Colorado
LWH
2012
2020
PS602DPK
Only one of either, PreLine Classic
or ProVent kit, can be fitted.
PLE15040DP
Holden
Colorado
LWH
2017
2020
PS602DPK
PLE15040DP
Holden
Colorado
4JJ1
2008
2012
PS611DPK
PLE15040DP
Holden
Colorado 7 / Trailblazer
LWH
2012
2020
PS602DPK
Only one of either, PreLine Classic
or ProVent kit, can be fitted.
PLE15040DP
Holden
Rodeo
4JJ1
2007
2008
PS611DPK
PLE15040DP
Isuzu
D-MAX
4JJ1TCX
2012
2019
PS601DPK
Suits single battery only.
PLE15040DP
Isuzu
D-MAX
4JJ1TCX
2017
2019
PS601DPK
Suits single battery only.
PLE15040DP
Isuzu
D-MAX
4JJ1TCX
2012
2017
PS631DPK
Suits dual battery system.
PLE15040DP
Isuzu
D-MAX
4JJ1TC
2008
2012
PS611DPK
PLE15040DP
Isuzu
D-Max
4JJ3-TCX
2020
2021
PS645DPK
PSPV645DPK
PLE15040DP / PVE200DP
Isuzu
MU-X
4JJ1TC
2013
2017
PS631DPK
Dual battery compatible.
PLE15040DP
Isuzu
MU-X
4JJ1TCX
2017
2020
PS601DPK
PLE15040DP
Mazda
BT-50
WLAT
2007
2011
PS609DPK
PLE15040DP
Mazda
BT-50
WEAT
2007
2011
PS609DPK
PLE15040DP
Mazda
BT-50
P4AT
2011
2018
PS621DPK
PSPV661DPK
PLE15040DP / PVE200DP
Mazda
BT-50
P5AT
2011
2020
PS621DPK
PSPV661DPK
PLE15040DP / PVE200DP
Mazda
BT-50
4JJ1TCX
2020
2021
PS645DPK
PSPV645DPK
PLE15040DP / PVE200DP
Mercedes
Sprinter Van
OM651.955
2010
2017
PS608DPK
416 models.
PLE15040DP
Mitsubishi
Pajero
4M41
2006
2017
PS607DPK
Incompatible with snorkel.
PLE15040DP
Mitsubishi
Pajero Sport
4N15
2015
2019
PS629DPK
PLE15040DP
Mitsubishi
Triton
4D56
2008
2015
PS622DPK
PLE15040DP
Mitsubishi
Triton
4M41
2006
2008
PS622DPK
PLE15040DP
Mitsubishi
Triton
4N15
2015
2021
PS629DPK
PLE15040DP
Mitsubishi
Challenger
4D56
2011
2013
PS622DPK
PLE15040DP
Nissan
Navara D40 STX550
V9X
2011
2015
PS606DPK
PLE15040DP
Nissan
Navara D22
YD25DDTi
2002
2009
PS617DPK
PLE15040DP
Nissan
Navara D40
YD25DDTi
2005
2015
PS618DPK
Suits manual transmission only.
PLE15040DP
Nissan
Navara NP300
YS23DDTi
2015
2021
PS630DPK
PSPV630DPK
PLE15040DP / PVE200DP
Nissan
Pathfinder
YD25DDTi
2005
2010
PS618DPK
PLE15040DP
Nissan
Patrol
ZD30DDTi
2007
2018
PS619DPK
Mounts on passenger side.
PLE15040DP
Nissan
Patrol
ZD30DDTi
2006
2018
PS626DPK
Mounts on driver side.
PLE15040DP
Nissan
Patrol
TD42T
2006
2017
PS626DPK
Mounts on driver side.
PLE15040DP
Toyota
Hilux
1KD-FTV
2004
2006
PS612DPK
Dual battery compatible.
PLE15040DP
Toyota
Hilux
1KD-FTV
2008
2015
PS612DPK
Dual battery compatible.
PLE15040DP
Toyota
Hilux
1GD-FTV
2016
2018
PS628DPK
Dual battery compatible.
PLE15040DP
Toyota
Hilux
1GD-FTV
2019
2021
PS628DPK
PLE15040DP
Toyota
Hilux
2GD-FTV
2018
2019
PS628DPK
PLE15040DP
Toyota
Fortuner
1GD-FTV
2016
2021
PS628DPK
PLE15040DP
Toyota
Land Cruiser 100 Series
1HD-FTE
2000
2007
PS613DPK
Dual battery compatible.
PLE15040DP
Toyota
Land Cruiser 200 Series
1VD-FTV
2007
2015
PS614DPK
3 battery compatible.
NOT compatible with PV614DPK
PLE15040DP
Toyota
Land Cruiser 200 series
1VD-FTV
2015
2021
PS615DPK
Dual battery and PV kit compatible
PLE15040DP
Toyota
Land Cruiser 70
1VD-FTV
2007
2016
PS615DPK
Suits single battery only.
PLE15040DP
Toyota
Land Cruiser 70
1VD-FTV
2012
2017
PS625DPK
Dual battery & ARB compressor compatible. Radiator Mount
PLE15040DP
Toyota
Land Cruiser 70
1VD-FTV
2018
2021
PS625DPK
Radiator Mount
PLE15040DP
Toyota
Prado 120 series
1KZ-FE
2003
2007
PS620DPK
PLE15040DP
Toyota
Prado 120 series
1KD-FTV
2003
2009
PS620DPK
PLE15040DP
Toyota
Prado 150 series
1KD-FTV
2009
2015
PS620DPK
Dual battery compatible.
PLE15040DP
Toyota
Prado 150 series
1GD-FTV
2015
2021
PS620DPK
PLE15040DP
Toyota
Prado 155 series
1GD-FTV
2015
2021
PS620DPK
PLE15040DP
Volkswagen
Amarok
CDBA
2012
2019
PS603DPK
PLE15040DP
Benefits of Fitting a PreLine classic pre-filter Kit:
100% water separation efficiency (based on 300um droplet size)
98% particle separation (based on 30micron particles)
Reliable protection from corrosion and abrasion
Clear Water Bowl to check the separated water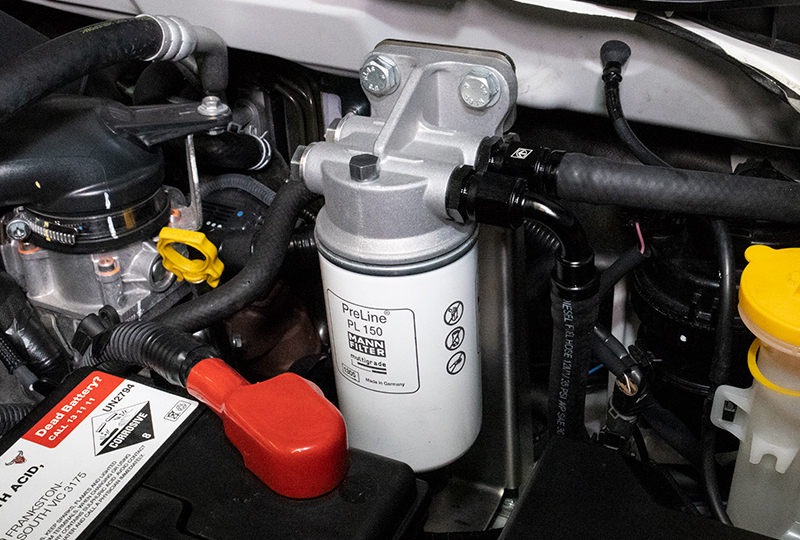 Direction Plus PreLine classic Pre-Filter Kit vs Competitors filter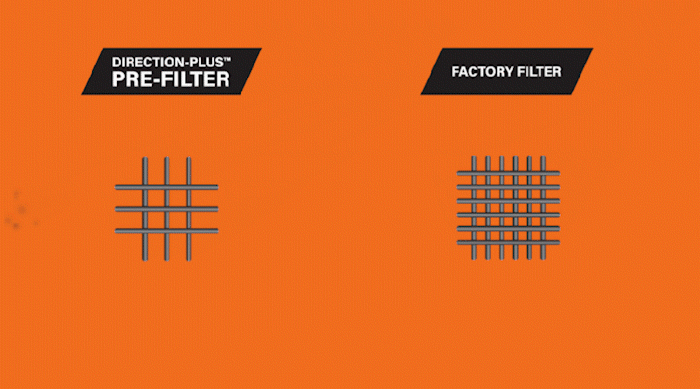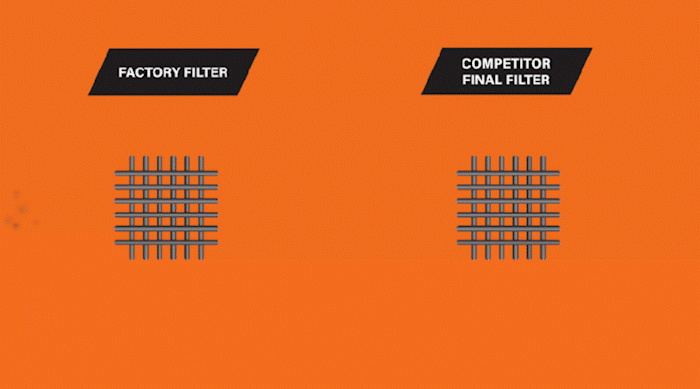 PreLine
150/40 Element
100% water separation efficiency (based on 150μm droplet size)
98% particle separation (based on 30 micron particles)

Up to 150L/h volume flow rate

Reliable protection from corrosion and abrasion
Simple spin-on style filter
Kit Contents:
MANN+HUMMEL PL150/40 filter assembly

Model specific laser cut stainless steel CNC bracket for the application
Clear water bowl to identify the separated water in the filter

Forged alloy fuel fittings

Fuel hose

Stainless steel fixing

Engine bay and windscreen decal

Installation instructions
*Contents may differ based on fitment application and component availability