GET more power! get more torque!
One method often used to increase the performance of the new-generation common rail diesel engines is to increase fuel rail pressure by tricking the ECU with "fudged" signals from sensors. This can create abnormal stresses on fuel system components with consequent unreliability problems and the potential for major damage.
STEINBAUER Power modules don't change rail pressure. The desired performance enhancement is achieved by changing injection duration, the same way the system was originally designed to operate. This also allows precise fuel control throughout the full rpm range of the engine.
UP TO 20% MORE POWER AND TORQUE*
Manufacturer and local testing has confirmed the STEINBAUER Power Module's ability to achieve 20% more power and 20% more torque while still maintaining safe emission levels and exhaust temperatures.
INSTALLATION
STEINBAUER Power Module is designed to be installed easily. Original electrical connectors are employed to allow easy installation.
Features:
3 years extended warranty
Easy installation with OE plugs
Precise fuel control
No change in common rail pressure
No interference with the original ECU
Less fuel consumption when towing*
Increased pulling power
Automotive industry standard gold contacts and sealed connectors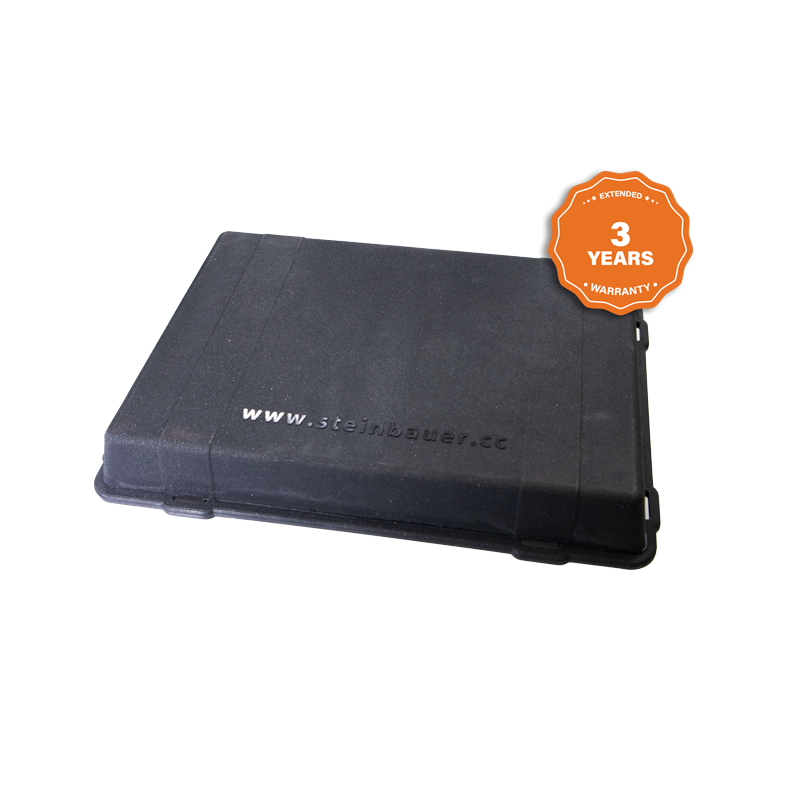 steinbauer power module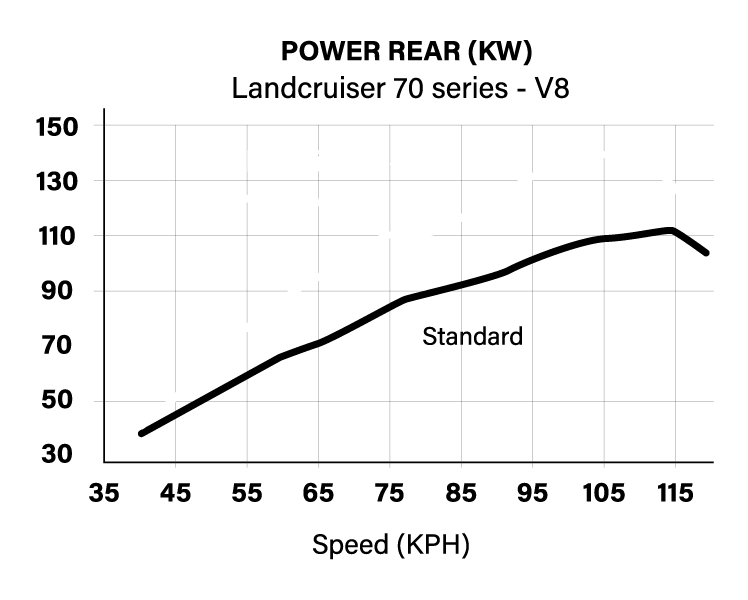 BUILT IN SAFETY FEATURE
STEINBAUER Power Modules are programmed to sense when your 4WD is working hard for a prolonged period, like towing up a long hill, and trim themselves back by 1% per second, until they are running at 50% capacity after one minute. This greatly reduces the risk of rising EGTs cooking your engine.
Once your 4WD is running under less stress, the module kicks back into full capacity to give you maximum power, torque and economy. Traditional chips and tuning have no built in safety feature that can rival this!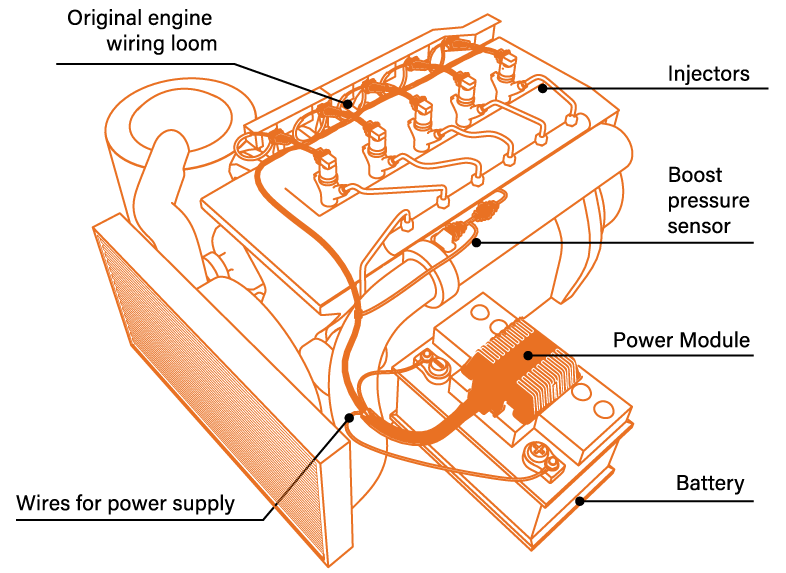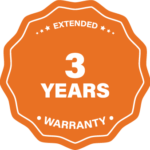 3 YEARS WARRANTY WITH ONLINE PRODUCT REGISTRATION
Steinbauer Power Module has a free 1 year warranty from the date of purchase. Register your product to get the Extended 3 years Warranty within 90 days of purchase. You can register your STEINBAUER Power Module at www.steinbauerwarranty.com
Make
Model
engine
YEAR
KW
standard
kw
after
nm
standard
nm
after
power module
NOTES
Ford
Everest
P5AT
(3.2L 5cyl)
2015 – 2020
143
172
470
564
240048
Ford
Everest
(Bi-Turbo)
YNWS
(2.0L 4cyl)
2018 – 2021
157
188
500
600
in prep
Ford
Ranger
WLAT
(2.2L 4 cyl)
2007 – 2011
110
132
375
450
220559
Ford
Ranger
P4AT
(2.5L 4cyl)
2011 – 2020
105
126
330
396
220162
Ford
Ranger
WEAT
(3.0L 4 cyl)
2007 – 2011
115
138
380
456
220162
Ford
Ranger
P5AT
(3.2L 5cyl)
2015 – 2020
147
176
470
564
240048
Ford
Ranger
(Bi-Turbo)
YNWS
(2.0L 4cyl)
2018 – 2021
157
188
500
600
in prep
Ford
Raptor
(Bi-Turbo)
YNWS
(2.0L 4cyl)
2018 – 2021
157
188
500
600
in prep
Ford
Territory
DURATORQ
(2.7L V6)
2011 – 2019
140
168
440
528
220057
Holden
Colorado
LWH
(2.8L 4cyl)
2012 – 2013
132
158
470
564
220552
Holden
Colorado
(Manual)
LWH
(2.8L 4cyl)
MY14 on (10/2013 on)
147
176
470
564
220719
Holden
Colorado
(Auto)
LWH
(2.8L 4cyl)
MY14 on (10/2013 on)
147
176
500
600
220719
Holden
Rodeo
(Manual)
4JJ1
(3.0L 4cyl)
2007 – 2008
96
115
280
336
220158
Holden
Rodeo
(Auto)
4JJ1
(3.0L 4cyl)
2007- 2008
96
115
294
353
220158
Holden
Rodeo
(Manual)
4JJ1
(3.0L 4cyl)
2008 – 2012
120
144
360
432
220085
Holden
Rodeo
(Auto)
4JJ1
(3.0L 4cyl)
2008 – 2012
120
144
333
400
220085
Isuzu
D-Max
4JJ1
(3.0L 4cyl)
2008 – 2012
120
144
333
400
220085
Isuzu
D-Max
4JJ1
(3.0L 4cyl)
06/12 to 08/2020
130
156
430
516
220571
Isuzu
D-Max
4JJ3
(3.0L 4cyl)
09/2020 onward
140
168
450
540
in prep
Isuzu
MU-X
4JJ1
(3.0L 4cyl)
2012 – 2021
130
156
430
516
220571
Mazda
BT-50
P4AT
(2.5L 4cyl)
2011 – 2020
105
126
330
396
220162
Mazda
BT-50
WEAT
(3.0L 4cyl)
2007 – 2011
115
138
380
456
220162
Mazda
BT-50
P5AT
(3.2L 5cyl)
2015 – 2020
147
176
470
564
240048
Mazda
BT-50
4JJ3
(3.0L 4cyl)
2021
140
168
450
540
in prep
Mitsubishi
Challenger (Manual)
4D56
(2.5L 4cyl)
2011 – 2013
131
157
400
480
220148
Mitsubishi
Challenger
(Auto)
4D56
(2.5L 4cyl)
2011 – 2013
131
157
350
420
220148
Mitsubishi
Pajero D-ID
(Manual)
4M41
(3.2L 4cyl)
2008 – 2017
118
142
381
457
220148
Mitsubishi
Pajero D-ID
(Auto)
4M41
(3.2L 4cyl)
2008 – 2017
125
150
357
428
220148
Mitsubishi
Pajero Sport
(Auto)
4N15
(2.4L 4cyl)
2015 – 2019
133
160
430
516
220148
Mitsubishi
Triton MQ / MR
4N15
(2.4L 4cyl)
2015 – 2021
133
160
430
516
220148
Mitsubishi
Triton
4D56
(2.5L 4cyl)
2008 – 2015
100
120
314
377
220148
Mitsubishi
Triton D-ID
4M41
(3.2L 4cyl)
2006 – 2008
118
142
347
416
220148
Mitsubishi
Triton
4D56
(2.5L 4cyl)
2008 – 2015
130
156
400
480
230122
with aftermarket exhaust
Nissan
Navara D22
YD25
(2.5L 4cyl)
2002 – 2009
98
118
304
365
220102
Nissan
Navara D40
YD25
(2.5L 4cyl)
2005 – 2015
128
154
403
484
220102
Nissan
Navara D22
ZD30
(3.0L 4cyl)
2007 – 2018
110
132
314
377
220159
Nissan
Navara D40
YD25
(2.5L 4cyl)
2010-2015
140
168
450
540
220413
Spanish only
Nissan
Navara D-40 V6
V9X
(3.0L 6cyl)
2011 – 2015
170
204
550
660
220318
Nissan
Navara NP300 (Single Turbo)
YD23
(2.3L 4cyl)
2015 – 2019
120
144
403
484
220775
Nissan
Navara NP300 (Twin Turbo)
YD23
(2.3L 4cyl)
2019 – 2021
140
168
450
540
220775
Nissan
Patrol
ZD30
(3.0L 4cyl)
2006 – 2007
118
142
380
456
220159
Nissan
Patrol
(Manual)
ZD30
(3.0L 4cyl)
2007 – 2018
118
142
380
456
220225
Nissan
Patrol
(Auto)
ZD30
(3.0L 4cyl)
2007 – 2018
118
142
354
425
220225
Toyota
Fortuner D-4D
(Manual)
1GD-FTV
(2.8L 4cyl)
09/15 to 08/2020
130
156
420
504
230048
Toyota
Fortuner D-4D
(Auto)
1GD-FTV
(2.8L 4cyl)
09/15 to 08/2020
130
156
450
540
230048
Toyota
Fortuner D-4D
(Auto)
1GD-FTV
(2.8L 4cyl)
09/2020 to current
150
180
500
600
230203
Toyota
Hilux D-4D
1KD-FTV
(3.0L 4cyl)
2004 – 2015
120
144
343
412
220101
with standard exhaust
Toyota
Hilux D-4D
1KD-FTV
(3.0L 4cyl)
2004 – 2015
126
151
343
412
230040
with bigger exhaust
Toyota
Hilux D-4D
(Manual)
1GD-FTV
(2.8L 4cyl)
09/2015 to 08/2020
130
156
420
504
230048
Toyota
Hilux D-4D
(Auto)
1GD-FTV
(2.8L 4cyl)
09/2015 to 08/2020
130
156
450
540
230048
Toyota
Hilux D-4D
(Auto)
1GD-FTV
(2.8L 4cyl)
09/2015 to 08/2020
130
156
450
540
230048
Toyota
Hilux D-4D
(Auto)
1GD-FTV
(2.8L 4cyl)
09/2020 to current
150
180
500
600
230203
Toyota
Hilux
(Manual)
1GD-FTV
(2.4L 4cyl)
09/2015 to 08/2020 on
110
132
343
412
230048
Toyota
Hilux
(Manual)
1GD-FTV
(2.4L 4cyl)
09/2020 to current
110
132
400
480
in prep
Toyota
Hilux
1KZ-TE
(3.0L 4cyl)
2003 – 2007
85
102
315
378
220065
Toyota
Prado 120 series
1KZ-TE
(3.0L 4cyl)
2003 – 2007
96
115
343
412
220064
Toyota
Prado 150 series
(Auto)
1GD-FTV
(2.8L 4cyl)
09/2020 to current
150
180
500
600
230203
Toyota
Prado 150 series
1KD-FTV
(3.0L 4cyl)
2004 – 2015
127
152
410
492
220101
with standard exhaust
Toyota
Prado 155 series
(Manual)
1GD-FTV
(2.8L 4cyl)
09/15 to 08/2020
130
156
420
504
230048
Toyota
Prado 155 series
(Auto)
1GD-FTV
(2.8L 4cyl)
09/15 to 08/2020
130
156
450
540
230048
Toyota
Prado 155 series
(Auto)
1GD-FTV
(2.8L 4cyl)
09/2020 to current
150
180
500
600
230203
Toyota
Land Cruiser
70 series V8
1VD-FTV
(4.5L 8cyl)
2007 – 2016
151
181
430
516
220300
Toyota
Land Cruiser
70 series V8
1VD-FTV
(4.5L 8cyl)
11/16 to current
151
181
430
516
240079
with DPF
Toyota
Land Cruiser
200 series V8
1VD-FTV
(4.5L 8cyl)
2007 – 2015
195
234
650
780
220338
Toyota
Land Cruiser
200 series V8
1VD-FTV
(4.5L 8cyl)
09/15 to current
200
240
650
780
240200
with DPF
Volkswagen
Amarok
CDBA
(2.0L 4cyl)
2012 – 2019
120
144
400
480
220512
Volkswagen
Amarok
CDBA
(2.0L 4cyl)
2012 – 2019
132
158
400
480
220647
Solenoid System
Volkswagen
Amarok
CDBA
(2.0L 4cyl)
2012 – 2019
132
158
400
480
220512
Piezo System
Volkswagen
Amarok V6
DDXC
(3.0L 6cyl)
2016 – 2021
190
228
580
696
220804